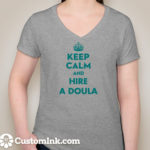 Tulsa Doulas Inc. members meet approximately 4 times each year (depending upon the current members' availability and desire).  The annual membership renewal meeting will be held following the first day of the Doula Training Workshop, usually held in the spring.
We are active in the community at public events, talking about doulas and sharing information on a monthly basis at Babies R Us and other venues and events throughout the year. We are here to support doulas and childbirth workers in their businesses and  to provide an avenue for professional growth and the opportunity to meet with area birth workers. We also do local marketing to area groups  to aid in newer doulas who desire to begin a business.  
Additional benefits for members include access to Tulsa Doulas library for further training and education, as well as a personal listing on our website. You may purchase additional links to your own website or Facebook page. 
We have recently incorporated and look forward to offering more in-depth Doula trainings in the next year. We are always looking for new members and are eager to share our Doula spirit and help further the use of Doulas in the greater Tulsa area.  For more information regarding Tulsa Doulas please email doula@tulsadoulas.com 
Current Officers:  President -Hilary Goodner       Vice President – Giselle Chebny       Secretary- Kasy Wixon  Assistant Secretary-  Naloni Bean   Treasurer– Amy Emerson     Webmaster-Amy Emerson, Hilary Goodner  We have several new committees forming to assist with planning events/trainings, social media updates and blogging, mentoring, and hospitality, public events (attending public events such as Babies R Us). New members are strongly encouraged to join  a group and get to know other area doulas!