Reflexology in Labor: March 3, 2018
Reflexology for Pregnancy and Labor
 March 3, 2018 – Saturday – Cost $75
 St John Owasso Hospital classroom  8:30am-12:30pm
Instructor:
Leslie Rosales –
Certified Acupuncturist, Reflexologist and Herbalist
During this class; doulas,  nurses, midwives, childbirth educators  and massage therapists and other birth workers will learn Reflexology for Pregnancy and Labor. Reflexology, an ancient form of healing, teaches that specific regions of the body called reflex zones (points in the feet, hands, and ears) are associated with particular organs, glands, and other parts of the body. During a typical labor reflexology session, pressure is applied to specific points on a woman's feet and hands to stimulate the pituitary gland and to induce the hormones known to speed labor and ease pain. A reflexology treatment comes in the form of applied pressure to find these deposits and blockages and break up patterns of stress, restoring balance and relieving tension. You will receive a certificate that you are certified to perform reflexology for your pregnant clients. There will be classroom instruction, demo, return demo and lots of fun and information that you can use. Please bring 2 pillows and wear comfortable clothes. Light snacks will be provided.
Class of Cost is $75
Deposit of $20 to Tulsa Doulas Inc *
Balance of $55 for each participate to Leslie Rosales, Instructor
Instructor will provide:
Handouts, Chart, Test, Skills check off list and Certificates
Reflexology table
CEU's will not be provided for this first class unless they get approved in time, so no guarantees.
Must have 6 sign up to make the class – Limit is 20 people
To reserve your place for Reflexology for Pregnancy and Labor, please pay $20 to doula@tulsadoulas.com through Paypal link. * Deposits are non-refundable and enable Tulsa Doulas to bring future trainings.
DONA Birth Doula Training: April 23 & 24, 2018
DONA Birth Doula Training is April 23 and 24, 2018 at St John Owasso Hospital

                      
Want to become a birth doula and learn form the best?! Cheri Grant is the instructor and her certification is number 2! She has been training birth doulas for over 26 years and is a labor an delivery nurse of 44 years. Your Birth Doula journey and career starts here. This is the first step in becoming a certified DONA birth doula.You can start charging for your services as soon as you finish your workshop if you want to, and your fees are completely up to you  This is an approved DONA Birth Doula training workshop. Check out the guide on becoming a DONA Birth Doula
Pre-requisites are required- email Cheri Grant at cbgrant_16@hotmail.com for Prerequisites,  open book pretest, reading requirements and other information or call her at 918-606-4561. If you have attended another Birth Doula training and have a certificate of completion, you are eligible to attend this training at a discount and approval by Cheri.
Cost: $540.00
Deposit: $40.00 is paid to Tulsa Doulas Inc
Balance: $500.00 is paid to St John Owasso Hospital. Call Pulseline at
918-744-0123 to sign up for the workshop and the pre-requisites.
You may pay your deposit to Tulsa Doulas through the PayPal link to doula@tulsadoulas.com
Here is the schedule for both days
REGISTRATION starts at 7:30-8:00 am both days with continental breakfast 
Lunch and snacks are provided both days.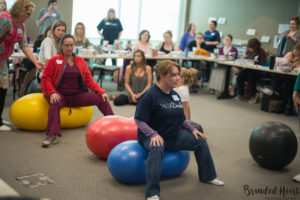 1st day is Becoming A Doula – April 23 is 8:00-6:30 ( registration is 7:30-8:00 am)
 Sample of topics:
What is a Doula
DONA information to be certified
Prenatal Contact Between Doula and the Women
What is the Ideal Birth
Doulas Role during and after a Cesarean Section
Newborn and the Doula
Doula Support and Breastfeeding
Postpartum Contact Between Doula and client
Managing Life as a Doula includes How much do I charge as a doula
Post Test and Question
DONA Code of ethics and scope of practice Test
2nd day is Secrets of Labor Support- April 24 is 8:00-6:30– Sample of topics
Significance of Birth in the Life of a Women
How to work with nurses, midwives, doctors includes role play with real medical staff
Support in Labor
Comfort Measures for Labor, Positions and Rituals
Rebozo Basic Techniques and Labor
Support Needs for Complicated Labors including Occiput Posterior
Labor Support and Positions Promoting Progress With Epidurals
Peanut Balls for Labor Basic and Advanced Positions
Techniques for Second Stage Management
Demonstration of Positions and role play – check off of 75 skills lab 
Demonstrations of Emotional Support for each stage of labor -Listing of words to say for each stage
Post Test and Question